Big House: Small Dining Room - A New Sunroom in Olympia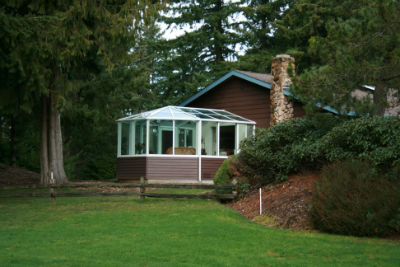 This great 70's rambler on secluded acreage in Olympia has lots of space everywhere…except the dining room.

When NM and SM contacted me she wanted light, space and pizzazz. He wanted no problems.

We went to work on a design that would remove the dining room window and create access to a new space with the light and architectural flare she was looking for. This fully integrated addition is heated and cooled by the central HVAC system and features its own exterior door.

SM loves her new space and enjoys decorating it as the showpiece of her main living space. NM'S comment, "I guess it's OK... it doesn't leak"!
---
Olympia 1910 Farmhouse Sunroom Addition
SunDesign was contacted by the owners of this great 1910 farmhouse in rural Olympia. They had some very specific requirements including:
◦ Ease of access from an existing room with no exterior door, but a beautiful 3 unit built in place window
◦ Full windows on a 3' pony wall
◦ Exterior must match existing architecture
◦ Must have exterior exit

We approached the design phase addressing three critical factors; budget, lifestyle and architecture.

Budget: To accomplish the overall goal and stay in budget, we suggested some architectural changes to a conventional wood beam sunroom, including a structural panel roof with faux wood beams instead of the traditional glass roof. This was a change the homeowners could easily accept and conserved funds for features more important to them.

Lifestyle: This was to be an occasional use room, so heat was supplied by a freestanding stove that would heat the room quickly when in use, and conserve heat the remainder of the time. The panoramic glass walls gave the desired light and openness, and the three foot lower walls provided plenty of space for bookshelves.

Architecture: The room was placed on a high foundation and trimmed in siding to match the old farmhouse. Grids were added to the windows to match existing. Entrance to the room was gained by carefully separating the 3 unit windows and placing a matching door in the center. Repairs were made to the aging flanker windows at the same time.

Great products, extensive knowledge of older construction methods, and a willingness to design around the client's needs allowed us to give them a beautiful, functional room within their budget.

---
Outdoor Kitchen Comes Inside
This great BBQ center was designed with a view patio overlooking beautiful Puget Sound. The only problem was that high wind and rain exposure made it unusable much of the year.

Design Challenge: create an indoor space enclosing the covered portion of the patio and the BBQ center.

To further complicate things, Mr. M was in Afghanistan and Mrs. M was in San Diego.

A couple site visits, extensive measurements and many emails later we had a design and plans that met their needs. Fabrication started and installation was scheduled to coincide with a two week visit by the homeowners.

As a special design feature, we design the end wall behind the BBQ to support a massive stainless vent hood and ran the exhaust through the roof. Strategically placed structural panels were used in place of glass to facilitate the vent installation and reduce maintenance behind the grill.

Mr. M was on board from the first drawing. Mrs. M remained skeptical until completion when she admitted her doubts and said "better than I could have imagined it could be".
---
Sunroom Installation Project with Homeowner Participation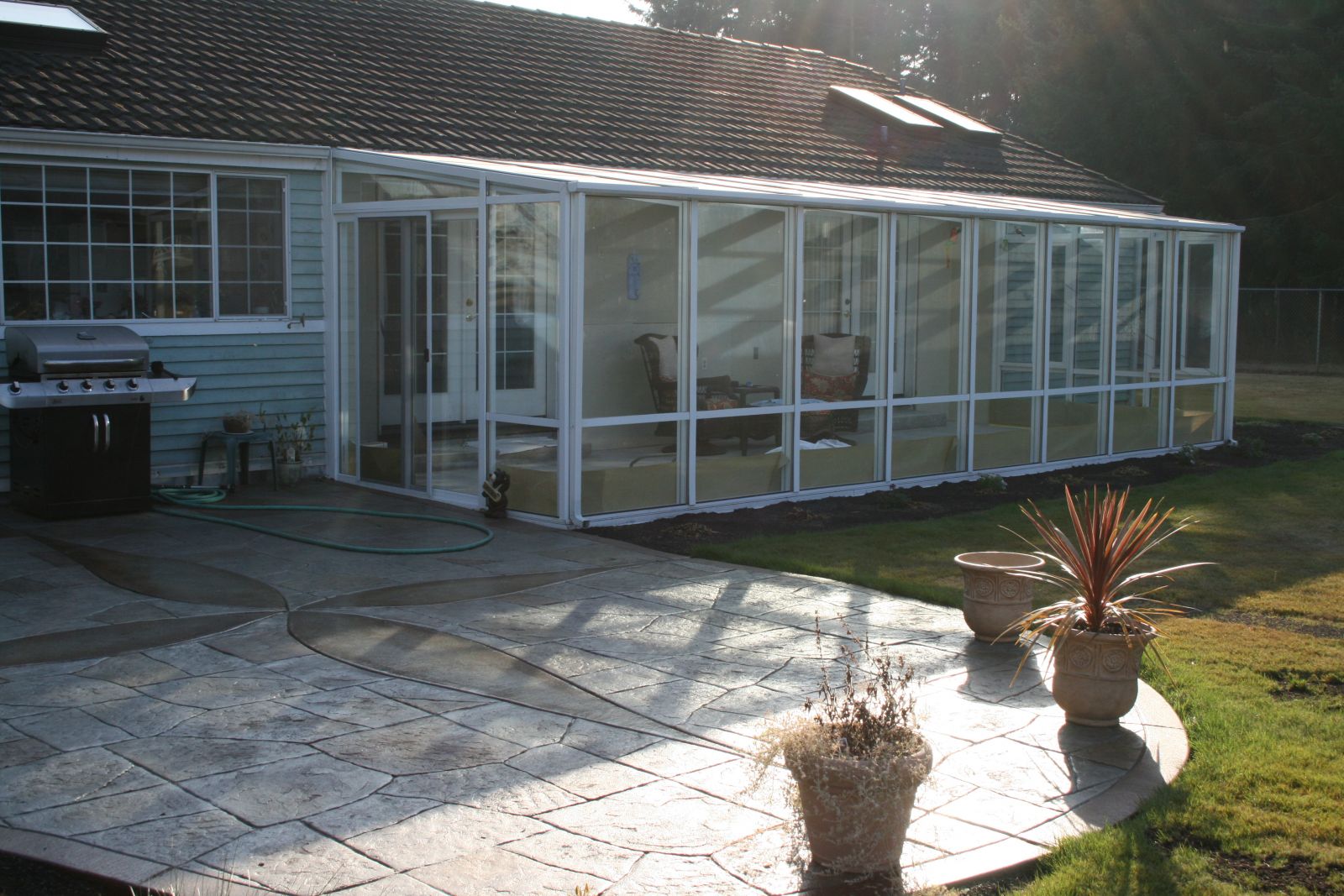 When Bob contacted me about designing a sunroom to replace the major portion of their deck, he had a couple requirements for the project that were not negotiable:
◦ The design must incorporate existing architectural features of the home
◦ He had a firm budget cap for the project
◦ He preferred to do some of the prep and finish work himself.

I said... "no problem".

The design was no problem. We were able to incorporate both the dining and bedroom exterior doors in the sunroom, and maximized the roof slope by placing the concrete floor at patio level.

His budget was realistic, and we avoided any unnecessary expense with clean lines and simple cross ventilation using two sliding windows in one end and a sliding door in the other.

We did the plans, engineering, permit packet and permit filing.

Bob did the deck and siding tear-out and repurposed as much of the material as possible. We did the excavation, concrete work and built the sunroom.

Bob is now finishing drywall and installing in-floor heating in preparation for tile work.

Not only was Bob able to save a great deal of money on the project, we have had a good time coordinating and consulting on his part of the job. No better way to make real friends than to do a project together.
---
We should have done this a long time ago!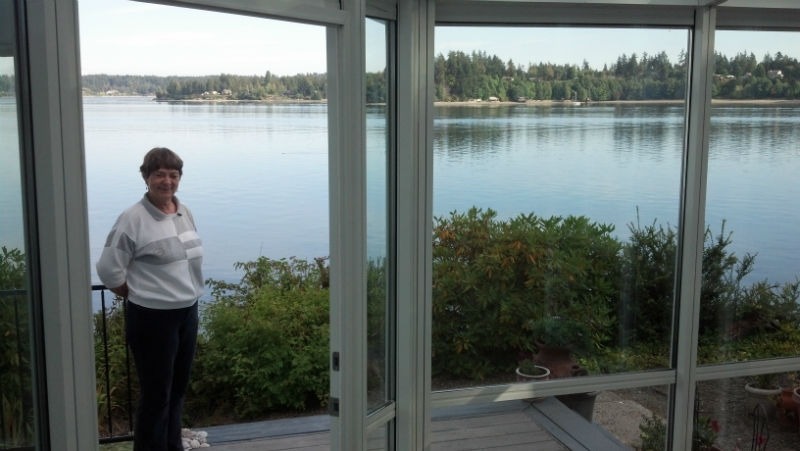 This [new sunroom] will allow us to enjoy our deck year round. Lee and Paula,
Hartstine Island
---